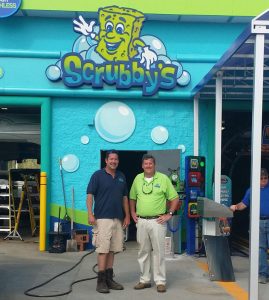 Chase Oil Company, Inc. was founded in 1946 by Maitland Chase. Three generations later, the company is being run by Co-vice presidents Charles Howard, Jr. and Chase Howard. Charles Howard, Sr serves as President. All were born and raised in the Darlington and Florence communities and proudly represent Mr. Chase's Legacy!
At inception, the company was established as a jobber for American Oil Company (Amoco), now BP. The company traces its roots to the supply of fuel to farms, service stations, and home heating customers. In the early 80's, the company began to grow by building convenience stores. Over a period of 15 years the company constructed and operated 9 convenience stores while at the same time growing their dealer supply business. Now in its 71 st year of operation, the company supplies 35 sites under the brands of BP, Amoco, Shell and 76.
In addition to serving the community as a fuel distributor, the company operates a chain of car washes. The car washes are comprised of automatic and express tunnels which operate under the brand name Scrubby's, a division of Chase Oil Company. One of Chase Oil's core values is community involvement. Sharing success with the community is important to the family. Chase Oil and Scrubby's Car Washes support local communities through sponsorships, civic groups, and community organizations.
City of Florence Recreation Department
Chase Oil Youth Recreation Fund
Florence Red Wolves
Pee Dee Land Trust
Coastal Conservation Association
National Wild Turkey Federation
South Carolina Scenic Highways Committee
Board of Zoning Appeals
The Eastern Carolina Community Foundation
S.T.A.R.S. of Florence
Fields of Faith with Low Country Community Church (LC3)
Lumberton Kiwanis Club
Lumberton High School
St. James High School
Kiwanis Club of Surfside Beach
SOS Autism Healthcare charity golf tournament
Lions club of Surfside Beach
Knights of Columbus Council 8980 Murrells Inlet
Waccamaw High School
Waccamaw Middle School
Georgetown Chamber of Commerce
Boys and Girls Club